Linking up again with Ashley for Friday's Letters.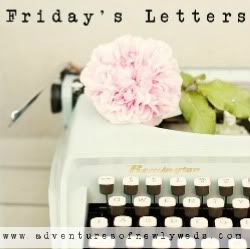 Dear Friday,
I'm so happy you're here. It's the end of the worst work week, and I'm grateful that I made it through without flipping out on anyone. Prayers for patience is much appreciated.
Dear Dave,
thank you for the little ways you show me you love me daily.
Dear Megan,
I'm so
EXCITED

to see you this weekend!!! It's been a while since "just us" time and I've really been missing that. Plus it's the first time I get to see you since your baby news. Yay!
Dear roadtrip, I'm honestly looking forward to you and the 6 hours by myself in the car. I will be rocking out to some music and making overdue phone calls to loved ones (handsfree of course).
*Obviously I won't be driving hands free but I will be talking on the phone handsfree. Duh!
Dear Dave, I'm missing you already.
Dear Tera,
oooh thanks for asking me to make you home made Christmas cards. It means a lot and I'm so excited to show you everything I come up with.
Dear Dad,
I'm so glad you could meet up for dinner while you were in town. It's so nice to see you and spend time together.