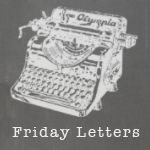 Linking up with Ashley again for Friday's Letter.
Dear 7 psychopaths, I can't wait to watch you tomorrow. I love how Dave and I go to matinees now because it's a little cheaper. Plus then you have the whole night to stay in at home together!
Dear sister friend, geeze it feels like forever since we Skyped and I'm really missing your cute little face. The plan this weekend is to stalk you out on there.
Dear Dave, I really love you. My favorite place is next to you and it makes my heart smile that somehow every night you find your way across our king size bed to be right.next.to.me. Seriously I love it.
Dear Grams, Just thinking of you. And I'm so proud of how far you've come with everything. I know that the healing process of your arm stinks but you're awesome and can do it!
Dear Readers, so sorry about this week, it's been a whirlwind of crazy at work and it's made me exhausted. And then I got one of my migraines where I can't see, and all I can do is sleep it off. I'll be working harder on bringing you posts next week. So much to catch up on.
Hope you all have a great weekend! Go out and do something fun!