Hello Friday,

I'm happy to see you. It's been a funky week, and I'm glad for it to be over. Some questions are still up in the air regarding my job (and a lot of other people's jobs in my department) but I'm hoping it will all work out. If not, I'm honestly not sure what our organization will do without us.
Linking up again with Ashley for Friday Letters.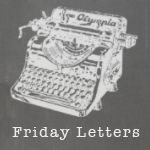 Dear Dave, Dexter Season 4 this weekend? Let's knock it out...but let's also get out of the house and enjoy the fall weather!
Dear Kitchen Aid, I am going to use you this weekend. I'm going to make something amazing and all my friends will be impressed with me, and Dave will fall more in love with me, and then I'll be on the cover of magazines looking all cute in my apron with some flour on my nose.
Dear Family, drive safe as you all convoy Grams back up to her apartment. She's leaving mom and dad's and is on her way to a full recovery back at home.
Dear best boy friend, YAY! I get to see you tomorrow! I'm so stoked that you'll be able to spend more time with Dave and get to know him better. It's really important to me.
Dear T-bone, I love being your go-to girl for hanging things in your last 3 apartments. Glad it feels more like home now for you.
Dear sister friend, I love your blog and I'm so happy you're feeling better and settled in China. But I still miss you something fierce.
I hope you all have a great weekend and enjoy your time spent with loved ones.